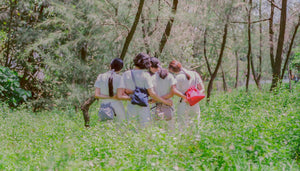 Beans Bag
---
Inspired by those artisans in various field and trigger by the story of  Jack and the Beanstalk; Beans Bag born as a role of daily flexure.
Unisex, Multiple uses in various way: On Waist / Shoulder / Cross body / Hand Carry / Chest
Wearing it cool or cute; pair up with your beloved one. Undeniably a great contribution in couples / BFF styling in a subtly stylish way.
Personalize your unique beans bag: Add-on for the different strap!